Back in November Formula 1 unveiled its new logo right at the end of the season finale, the Abu Dhabi Grand Prix. Valtteri Bottas, Lewis Hamilton and Sebastian Vettel all received their trophies and then *drumroll* the new F1 logo was revealed.
The old iconic F1 logo has been around since the early nineties and F1 was sold to the American Liberty Media Corporation in 2016 so this is the first big shakeup in the visual identity of Formula 1. The new logo quite literally draws a line under the Bernie Ecclestone era.
Now the official story behind the new design is that it had to be modernised for digital platforms. It had to be simplified for the 21st century. We've seen this before with the much simplified Barclays logo, the less fussy Mastercard icon, even the Google Chrome web browser which took its iconic 2008 "E.L.O. spaceship" logo design and flattened it just 3 years later.
Sean Bratches, F1's Managing Director of Commercial Operations, said that the new logo was better for both digital and merchandising, admitting that F1 was following other brands in their drive to simplify.
"Look at Starbucks, or Coca Cola which has taken the condensation off their logo to enter digital. We felt we had to go a little bit further and really retool to position us on a going forward basis."
So what did the three podium finishers at the last Grand Prix of 2017 think of the new logo?
Race-winner Valtteri Bottas said:
"What's wrong with the old one? I thought it was quite cool."
Sebastian Vettel added:
"I like the old one better."
And our very own Lewis Hamilton, what were his thoughts?
"The one we had was an iconic logo I think. Just imagine if Ferrari or Mercedes change their logo. I mean the new one, I don't think is as iconic but maybe it will grow on us"
But what about the F1 fans? What was their reaction? Apparently the F1 bosses did expect a "strong reaction". And that's exactly what they got.
The responses varied from "VERY American" to "hideous" and "change for the sake of change". A few people did actually like the new logo and many seemed to understand the need for fresh branding for new owners.
But ultimately, whether you like the logo or not, it's probably here to stay and you'll get used to it. The London 2012 Olympics logo was a bit of a smack in the eyeballs for nearly everybody who saw it but it stayed the duration. And why not when branding agency Wolf Olins trousered £400,000 for it?! Why spend another half a million pounds having to redesign it?
Or how about when the old BBC logo from our childhood was redesigned back in 1997? The old RGB signatures were dropped and instead we had graphic designer Martin Lambie-Nairn put three Gill Sans letters in three square boxes. And all for the bargain basement price of £1,150,000!
But what of this new F1 logo?
Well, the latest news is that, very much like when UKIP redesigned their own "Flossy" logo and ended up in hot water because it looked so much like The Premier League's icon, so the F1 redesign has been seen to look very similar to 3M's Futuro logo.
3M, the company that brought us Scotch Tape and Post-It notes, produces support products such as knee supports and neck braces, all under the Futuro brand. Their new logo was trademarked in the US in February 2017 and in Europe in June 2017. F1 lodged an application for their new design in November 2017 and, right now, it is still under consideration for registration in Europe.
What this means is that the new F1 logo is so similar to the Futuro logo that there could be issues where there is a common use. Futuro's icon is registered for use in clothing, albeit medical clothing. Formula 1 want to use their new design across all channels, including clothing So this is where the conflict may arise.
The new F1 season starts in March, so the controversy over the new logo needs to be sorted out very quickly. F1 already have their new logo on their website but the old one is still around. It's not as impressive as when Google totally re-branded back in September 2015 and everything changed overnight!
---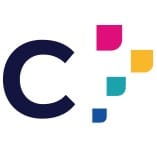 If you're looking for logo design but you want to be sure it's not like anyone else's then give us a call on 01276 402 381 We'll talk with you about it and make sure it's truly unique for you.
We've designed some really nice logos for the likes of Aldena and The Prospect Trust, so let us know what you're looking for.