Drive new leads from social media channels
Engaging social ads connecting your business to your audiences
Paid social is Pay Per Click (PPC) for social media channels such as LinkedIn, Twitter and Facebook. Every platform has its own ad management system and Clever Marketing has the expertise in all of them.
With a paid social media campaign your business will benefit from greater brand awareness, increased visits to your website, plus those all-important leads and sales.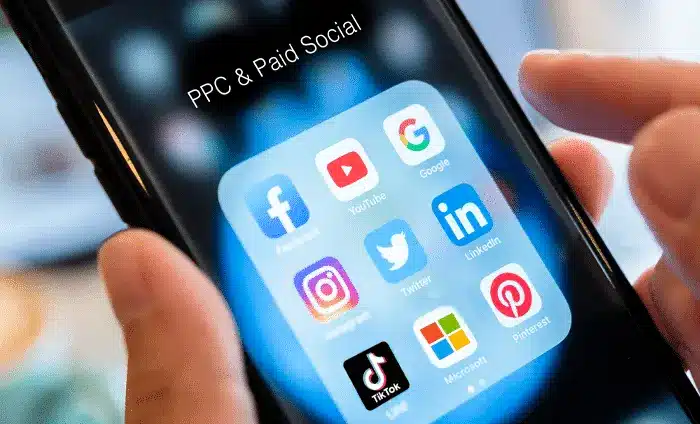 Increased brand awareness

Generate greater engagement

Re-marketing for improved conversions
Our paid media services include all the major advertising channels including search engines and social media.
Create a winning Google Ads  strategy and stay ahead of the competition.
Find out more about how Mircosoft Ads can help your business.
Eye-catching ads to capture the attention of your target audience.
Programmatic ads to capture the right audience, in the right place at the right time.
Paid Social Services include:
Paid social is the natural and logical extension of social media platforms, where your business can leverage popular social channels.
From simple text-only messages, through display ads to full-on video presentations, social media channels offer a wealth of opportunities to generate greater exposure for your brand and opening up to new audiences.
As a paid social agency, Clever Marketing will help your business find the appropriate social media channels where your target audiences exist, build an audience and generate interest, engagement and leads for your products and services.
 We select the most suitable platforms and seamlessly integrate your social media messages to drive calls through WhatsApp and clicks through TikTok if your markets are there. YouTube can place your videos in front of prospects whilst LinkedIn advertising has a wide range of options to deliver meaningful content in a B2B context.
Our social media experts will deliver strategic social ads to the right people, on the right platform. We strive to produce results that will contribute to your business growth & brand reputation from day one.
Your organic Facebook activities only reach 2% of your audience. 98% ignored!

Users spend almost an hour on YouTube daily.
Call Clever Marketing on 01276 402 381 to discuss your paid social media options and we will formulate a paid social media strategy with you that will deliver excellent results.
How can Paid Social advertising help your business?
With Clever Marketing and Paid Social you will expand your reach, increase conversion rate and upsell reaching millions of your potential customers in the place they use the most.
Paid Social Remarketing
With Facebook Pixel, paid social enables us to target consumers who already have a relationship with your brand.

Paid Social Video Ads
(Video ensures that your brand becomes top-of-mind for your targeted audience.)
Video Ads ensures that your brand stays at the forefront in the minds of your targeted audience.

Marketplace
We use a highly effective targeting system that can identify your ideal customer while they browse Facebook Marketplace.
Get started with a free SEO consultation
Speak with our team of in-house experts to see how you can get started today.