As a digital marketing agency we've been watching the acquisition of Twitter with great interest. Twitter is just one of the channels through which we conduct business, if not for ourselves for some of our clients. So, when Elon Musk brought it for $44billion we hoped that, as with most other primary tools, it would be a smooth and positive transition.
It's been anything but.
First there was Musk's withdrawal from the deal, followed by a company lawsuit then a dramatic about-turn by the entrepreneur to stick to his initial proposal.
Then, once Musk took over, marching into the company's San Fransisco HQ with a sink, he sacked top executives and unceremoniously laid off half the workforce [Including a friend of mine – Ed]
The capers didn't stop there – the famous "blue tick" that was awarded to brands and notable people could be anyone's for just $8 a month. There were a number of high profile controversies where famous brands were cloned, and trust in the platform was seriously damaged.
The Twitter Logo is an X Bird
Then this weekend, Elon Musk announced that he would "ditch the bird" and replace the familiar blue bird with an X.
A few months ago, the "Chief Twit" swapped the Twitter logo for a crypto currency logo. That lasted about a day. However, Musk has long made it known his intention to turn Twitter into "the everything app" where users can send money, conduct their lives, similar to China's WeChat app.
And on Monday 24th July 2023 "Larry" the bird finally disappeared.
Musk's Twitter profile page was totally awash with the new X.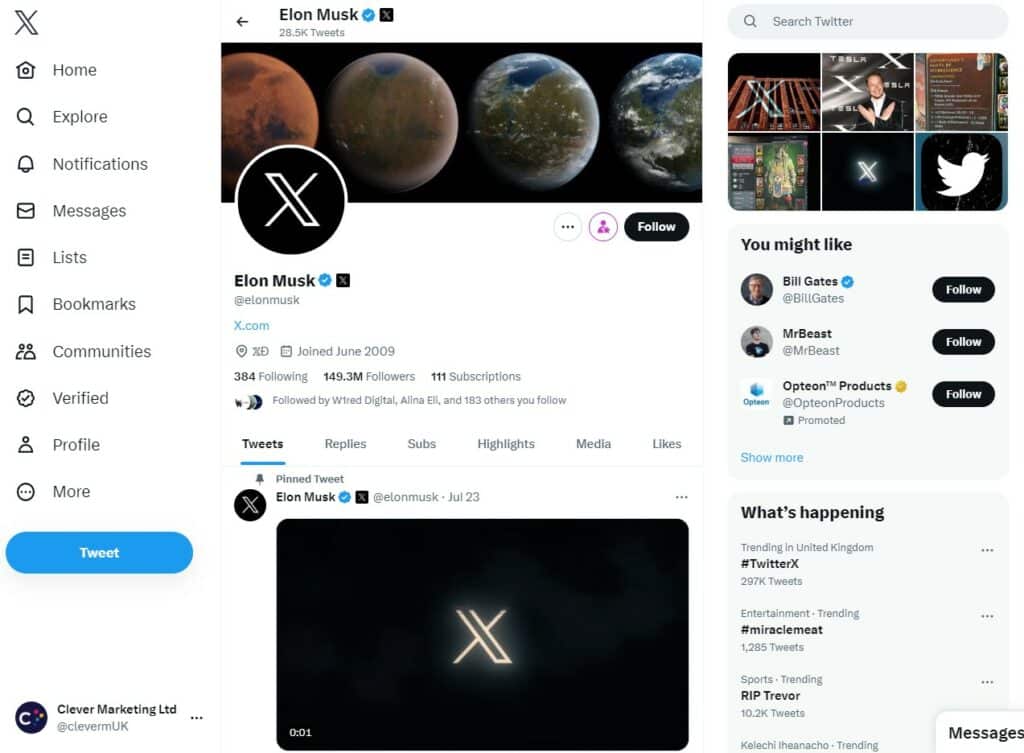 He even tweeted (Xd?) that x.com now points to Twitter.com
https://x.com now points to https://twitter.com.

Interim X logo goes live later today.

— Elon Musk (@elonmusk) July 23, 2023

It didn't point this afternoon and this evening it's still not resolving correctly. In what looks like a complete schoolboy error, we can still see a GoDaddy holding page.

What Do Clever Marketing Think of X?
Being totally objective, as a design agency that has handled many brands over the past seventeen years, we weren't particularly impressed.
The very first thing to remember about Twitter is that it's a brand nearly as old as ours. Of course, we're not as famous as Twitter nor as renowned. But age is important in branding. It takes a long time to develop trust as part of brand equity and Elon Musk has destroyed that in less than a year.
Advertising revenue has apparently halved at Twitter and now this seemingly rushed and simplistic "rebrand" is not what we expected. Musk's Space X brand is one thing, but what is this? Just X? Twitter X? If we don't know then we're not the only confused users. More like a "debrand" as Warren Beeby, chief creative officer of Rankin Creative called it.
Our headquarters tonight pic.twitter.com/GO6yY8R7fO

— Elon Musk (@elonmusk) July 24, 2023
As for the psychology of the big X, as projected on Twitter (X?) HQ last night, it's reminiscent of George Orwell's 1984 – It's stark, brutal, far less friendly and welcoming than the old blue bird. X is a cross, a barrier, it's the icon you click when you want to close a window on your computer, or switch off a pop-up. X is cancelling, X is stopping.
Is Elon Musk's X some sort of genius that we don't yet realise or is this more of the erratic and negative disruptor behaviour that we've come to expect from one of the world's richest men?
Only time will tell.
#RIPTwitter
---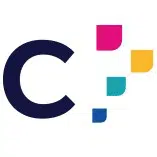 Clever Marketing love social media and will treat your brand with respect. We value brand equity, and appreciate rich history.
Call us if you want us to look after your brand in a new website design or digital marketing campaigns, SEO or PPC. We're on 01276 402 381