Experienced PPC Specialist required for thriving digital marketing agency in Surrey
Clever Marketing has been a leading digital marketing agency since 2007. We have a fantastic reputation amongst our extremely loyal clients. We offer the complete  design and digital marketing service, helping local and national SMEs to grow their businesses.
We currently have a brilliant opportunity for the right candidate to join our team and help us make an even bigger difference to our clients' success.
If you are passionate about helping businesses grow through your PPC & digital marketing expertise, then this is the right role for you. We are looking for an experienced, innovative, motivated, and self-disciplined individual who can bring their knowledge to Clever Marketing. You will be working closely with the PPC manager on strategies and deployment of PPC campaigns to ensure delivery of well-executed campaigns.
To apply, please submit your details with covering letter and CV below. We look forward to hearing from you!
Your responsibilities will include:
As a PPC Specialist you will work closely with the PPC manager on external client accounts.
Creating and planning a variety of PPC campaigns across a variety of digital channels.
Overseeing existing campaigns and making recommendations on how to optimise them through keywords, placement, device, geographic, demographic, and other levels.
Perform daily account management of PPC campaigns (review expensive under-performing keywords and ensure PPC campaign does not exceed weekly and monthly ad spend budget, maintain Quality Score, impression share and other important metrics).
Analysing trends and making data-driven decisions.
Working on research & Strategy for each account.
Writing engaging & concise copy for adverts and landing pages to help with CTAs to boost click through rates and conversions.
Producing detailed analysis and reports of campaigns.
Presenting data and reports to a range of audiences.
Making creative suggestions for advert templates.
Stay on top of search engine and PPC industry trends.
You must have at least 5 years experience (Please do not apply if you don't)
You must be able to present successful case studies of PPC work you have demonstrated your skills in, especially for B2B.
Experience with Google Analytics, Google Ads, Google Tag Manger, and Search Console.
Functional experience with all channels of social media.
Strong Interpersonal and listening skills.
Advanced knowledge of Microsoft Excel, PowerPoint, and Word.
Excellent writing proficiency and content creation skills.
Analytical skills.
Google Accredited & Google Ads certification.
A team of diverse and "quirky" individuals, we bring together a collective of interests, hobbies and passions – making us who we are.
When we are not in the office, you will find us out on team nights out and socials.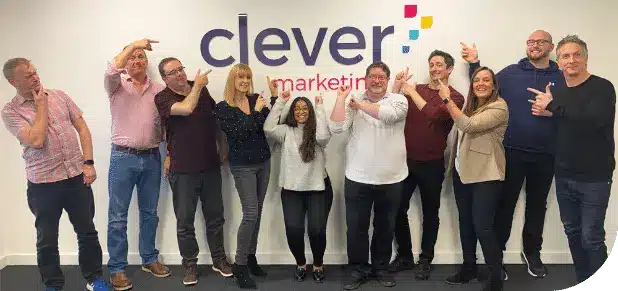 For nearly 25 years now Pantone has been giving the world a "color of the year" For 2024, that colour is… drumroll… Peach Fuzz!
Peach Fuzz 13-1023 that is.
You've got a brand-new website design and now you need traffic and leads to drive sales for your business. What do you do next? Search Engine Optimisation (SEO) is an effective way to raise your...
When was the last time you conducted a digital marketing review for your business? This year? Back in 2022? Never? If you've not looked at your digital marketing landscape for a while, then it's time...
Our in-house team of experts can help you address your marketing challenges and unlock your businesses full potential. Get in touch for a complimentary consultation today.