15th May 2017

Every Business Needs a Website, Right?
Of course, we are going to say that, aren't we? We'll tell you that you need funky business cards, glossy brochures, a nice prospectus, cool flyers, wicked posters, eye-catching bumper stickers, a shiny new website and some SEO and PPC services thrown in to boot, right?
Well, yes. We do all that. And more. We are Clever Marketing.
But we are not going to advise your business to do everything, especially if, in our experience, we can see it's not an essential for you. Not every business will need brochures and flyers, posters and stickers.
However, every business needs a website, right?
Business Before the World Wide Web
Cast your mind back 25 years…
It's 1992. John Major is the British Prime Minister, the Sierra is still Ford's family car, Diana is going through that rocky patch with Prince Charles and the "rave scene" is in decline as the country's moral champions tackle the corruption of our youth (despite Mr Blobby riding high in the UK singles chart). The Black Wednesday stock market crash is real, a pint of bitter costs just £1.31, petrol is around 48p per litre and you can still buy a house for around £40,000.
You need a plumber. Where do find one?
Easy – You've got a big fat copy of The Yellow Pages or the blue book called the Thomson Local that sit in the cupboard or shelf under your telephone. You look up "P for Plumber" and you browse the ads, both text-only and graphic, for the purveyors of plumbing principles that somehow attract your attention. You ring around, you get quotes and then you decide upon which one meets your criteria. Job done.
Back in 1992 that was the best option you had of finding a business, almost the only one. That local phone book was quite a large volume, whilst today's tome is a shadow of its former self and there's a very good reason for that…
Today Google is Your Directory
We've seen online directories come and go. They were once where the Internet saw the future of business being – hard-coded lists of firms in a flat HTML site. But directories are no more. Even the once-mighty DMOZ is dead now.
Yellow Pages and Thomson both migrated from analogue to digital. But ask yourself this – if you want to find a business, what do you do? You "Google it", right?! Or are you the sort who likes to "Bing and Decide"?
And so, if anyone is going to Google a product or service, where do you think you need to be?
For your business to have any credibility in today's world, you need to be on the web and you need your own website.
As a business, you will already have an address and a telephone number but those alone don't work in 2017. Potential customers will be looking to see who you are and what you do as a business. They will want to take a good look at your "shop window" but, without the constraints of High Street opening times, they will step right in and browse. In addition, potential clients can see reviews and case studies, check out your portfolio, read testimonials and get a really good understanding of how and why you are the right business for them.
A phone number and an address don't do that. A half page ad doesn't do that.
A web page, however, does ALL of that and more. A LOT more.
You can show off your products, provide information on everything you do, sell goods and services 24 hours a day and even allow interested clients to register for updates and receive your regular email newsletter.
Web addresses are everywhere these days, showing just how significant websites are to businesses in the 21st century. You'll see www addresses on the side of vans, posters, bus shelters, TV ads, on business cards, even hear them on the radio.
So, if you want to have a business that can provide information and services 24 hours a day, that can collect information from prospects and save enquiries to a database whilst you're busy or away, then you'll need to get your website in order.
Let's Discuss Your New Website
If you need to discuss the creation of your next website, whether you're a new business, just starting up, or your current site is in need of a revamp, then call Surrey design agency Clever Marketing on 020 3146 4341 or email info@cleverm.co.uk because every business needs a website, right?
---
28th April 2017

Web Design Trends. 2017 is an exciting time for the web industry with technology and customer needs moving at pace. Of course, the digital landscape is continually changing so we all need to evolve with it to ensure we remain ahead of the curve. With this in mind, we take a look at the top five web design trends we think you should be looking out for in 2017.
1. Content remains significant
Focusing on content is nothing new, after all, the old adage that content is king is still true. Content is an essential part of the marketing mix and your content marketing strategy enables your company to show they are experts in their field but more importantly drive web traffic. While social sharing, sign-ups and pop-ups remain a key way to drive leads, content will continue to be significant.
2. Animation will have greater importance
Similarly, animation is being used more regularly on websites these days. It's of particular importance when there's a need to show meaningful content or demonstrate how to do something. Video is a great way to communicate and it's easily shareable across platforms such as YouTube. GIFs are also becoming more sophisticated so we anticipate an increase in these over the coming months also. However, don't overuse GIFs: they are good up to a point but we don't want to go back to the crazy GIFs of the late 1990s!
3. Less emphasis on home pages
With content becoming more refined and ultimately more shareable, it's likely we'll see a rise in landing page design. Of course, all websites need a home page but there is a need to provide visitors with pages that are more targeted and best meet their search query. Content marketing is a great way to drive traffic to a website with tailored pages created to increase those conversions, feeding your social media output.
4. Simplified navigation
With so many users accessing web content via mobile and smartphones, there's a need for navigation techniques that provide a good user experience (UX). Gone are the days of complicated navigation with the majority simplifying their content. Keeping navigation to a minimum also helps put the focus back on content, relevant to the visitor's needs.
5. Trends in creativity
Creativity is all about showing a brand's personality and more imaginative techniques may result in the end of flat designs. Shapes, lines and patterns certainly took off last year and it's likely we'll see this trend continue in 2017. Equally, basic heading styles are being replaced with more innovative options like overlapping text and images or bold typography. More experimentation is taking place and some are even going back to basics with simple, straightforward text. There's also been an increase in illustrations and hand-drawn elements such as icons, fonts and graphics. Again this is bringing a unique look and feel to website content.
---
With the industry changing at such a quick pace, we cannot wait to see these (and other) web trends develop over the course of 2017. If you'd like to speak to someone about your website design, please contact Paul Mackenzie Ross at Clever Marketing on 020 3146 4341 or feel free to fill in our contact form.
---
16th September 2016

When it comes to designing or indeed re-designing your website, it's easy to focus on the aesthetics. However there are a plethora of things to consider before forging ahead with your web design strategy –  there's the domain name, web hosting and technology to take into account with functionality, user experience and mobile friendliness just as important.
Clever Marketing takes a look at what to consider before undertaking a website design.
The Basics
A domain name should reflect your brand and if it's easy to spell your website has a higher chance of being discovered in search results too. Ultimately if prospective clients can find your website online, you're more likely to generate new business.
On the technical side, think about the type of content management system you require. Also, will your website design be media-rich and require regular updates? Think about expertise and resource too, if this is available internally or whether you require a web design agency.
Also consider what you need from your hosting partner in the way of technical support, back ups and website security.
The Audience
The objectives of your website design must align with your audience.
Think about the kind of visitors you want to attract and what makes you stand out from your competitors. Conduct a website review to understand the navigation and design of your competitors' sites.
Also, note down any ideas and what these companies are doing that's particularly interesting or innovative. This will help you understand how you compare and what you need to do to make your business website design really stand out.
The Navigation
When a prospective client lands on your website, it's crucial the information they require is easy to locate. Consider how visitors will interact with your website and what the user journey might be.
How will they get back from each page, can they get home and are social media channels visible?
Keep the structure of your navigation simple and accessible from the top of the page. Don't forget to include a search box and call to action with contact details.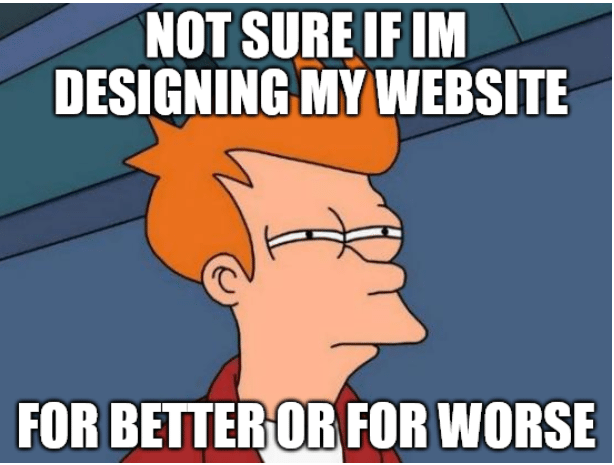 The Accessibility
With more and more users accessing websites from tablets, smartphones and mobile devices, it's essential your website design is mobile friendly.
Google now penalises websites with low search rankings that are not mobile-friendly too.
With a responsive website design, the content is automatically resized to fit the dimensions of a device. This also ensures you provide visitors with a consistent experience regardless of how they're accessing your website.
The Website Design
An eye-catching website design that's user-friendly is most likely to provide a positive user experience. Visitors need to focus on the content without being distracted by unnecessary graphics. Keep it simple by not using too many colours and keep the typeface consistent so it's easy to read. Think about how you're going to draw visitors in so they see the most important information.
While you're considering the design, take into account the content requirements for each page. Credibility goes a long way so be concise and honest about what you do too. Make sure you think about how you can keep the site fresh with new content.
When it comes down to it, your website design must be created with your end user in mind. Consider the budget and resource required before starting a website design project, creating a timeline with realistic deadlines for each stage.
Websites are continually evolving so don't forget it's an ongoing process.
---
Considering a new website build? Get in touch with Clever Marketing today and see how we can help design your website.
Call us on 020 3146 4341 for a proper discussion or email info@cleverm.co.uk with your details.
---
5th November 2015
If you believed everything you read on the internet, you'd think that mobile phones are taking over the world.
In a way, though, they are – last year for the first time mobile traffic exceeded desktop traffic, reflecting the momentous shift that's been happening in consumer browsing habits for some time now. Namely that we now use our mobiles for everything. Checking social media, browsing the news, shopping – our mobiles are never out of our hands.
And this is why brands with mobile optimised or responsive websites have been enjoying the spoils of higher traffic and increased conversion. A lot of companies are trailing behind when it comes to making their website pleasant and easy to use on mobile. Where does your website fall on the spectrum?
To help you make boost your mobile conversion rates, here are five ways to improve your mobile website.
1. Make your website a pleasure to use on mobile
First things first; is your website responsive, or do you have a mobile optimised version? If the answer to both of these questions is no, then don't read the rest of this blogpost and get yourself a responsive website!
If you need help checking to see if your website is mobile friendly, visit Google's Mobile-friendly test and enter the URL of the web page you need to test.
If you're still relying on the desktop version of your site to carry you through, your conversions are likely to be suffering. The standard of mobile websites is so high these days that consumers have little to no patience with pinching, scrolling and squinting in order to just read content or perform an action. If your website acts this way, it's likely to be slow to load and will also make you appear dated and old-fashioned in comparison to competitors.
2. Make your mobile checkout quick and easy
We all have pretty high standards when it comes to mobile browsing these days, and will quickly lose interest and move on to something better if any process becomes too difficult or takes too long (our attention span is only getting shorter – we can only spend a few seconds on any one webpage now without giving up). Consider one click ordering and guest checkout options to encourage conversion.
Consumers will also be put off by payment forms which are too long. Keep questions rudimentary and also consider features such as a postcode finder and numerical calendar to make things as user-friendly as possible.
3. Streamline your content
Put simply, you have a lot less space on a mobile screen than you do on a desktop, or even a tablet. There's less room for distractions, such as pop-up ads or external links. Padding out your content with too many added extras will make your pages look cluttered and visually unappealing to a consumer.
In addition, if they're too busy being distracted by ads and banners then they're less likely to be doing that one thing you've brought them to your website to do: convert. Keep your mobile webpages as clean and simple as possible and only prioritise the most relevant content in order to see the highest conversion rates.
4. Condense your navigation options
Are you noticing a theme emerging here? To be successful on mobile, you basically need to serve up a cleaner, more streamlined and simplified version of your website.
For starters, your navigation menu should be collapsed to allow a user to expand it and explore their options with one tap. Secondly, present them with only the most essential layers of navigation to prevent confusion and the possibility that they'll get lost in your website and leave out of frustration. Bring your product pages to the forefront and reduce the number of clicks it takes them to reach the checkout.
5. Make the most out of your calls to action
We'll say it again – mobile screens are (comparatively) small! To make sure a user doesn't miss anything, (remember, they're likely to be commuting, watching TV or chatting away to a friend at the same time) make your calls to action as big and as inviting as possible.
Don't be afraid to use large or colourful buttons to draw attention. There's a dual reasoning behind making your calls to action even more prominent than on desktop – users also need to be able to click them easily with one tap. Too small, and we're back to that pinching and scrolling issue which leads to nothing but frustration – and a failed conversion.
---
If you need help with any web design, from making your website mobile-friendly to improving click through rates, give us a call on 020 3146 4341 and see what Clever Marketing can do for you.
---