As a full-service marketing agency we're going to talk about getting your business noticed from a digital perspective. That means all the online tactics and digital strategies…
Organic Listings
When you first build your website, being in the search engines is essential. After all, if you're not in the search engines, how is anyone going to find your shiny new, or freshly rebuilt website?
These days, the search engines are very good at finding websites online, whether you inform them or not, but it's best practice to give the search engines your website address and other details that will help them discover, crawl, index, and rank your web pages.
So, as a first port of call, set up accounts for your business in both Bing Webmaster Tools and Google Search Console. Then add your website address and ensure that you tell the tools the address of your website's XML sitemap. As a WordPress website design agency, we recommend the Yoast SEO plugin which automatically creates an XML sitemap index, then XML sitemaps for your posts as well as pages.
Business Profiles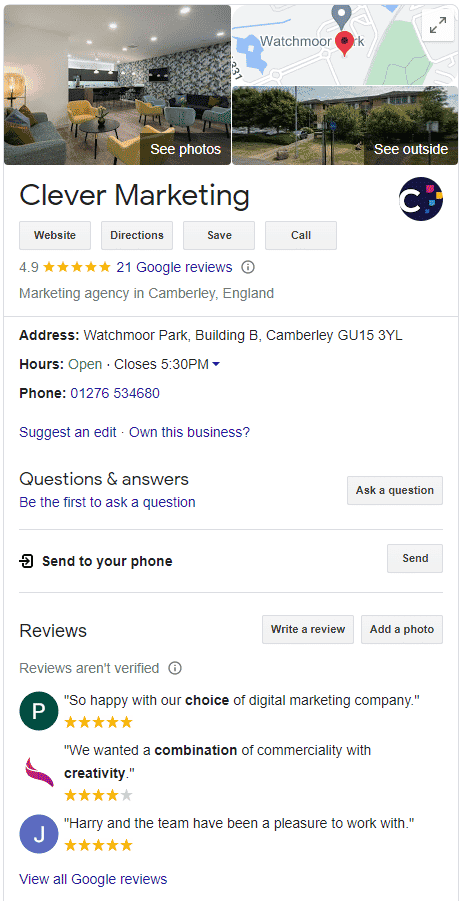 Two of the major search engines, Google and Bing, allow you to create business profiles. When you sign up to, and enter your details at Bing Places and Google Business Profile, you're further helping the search engines provide the best information for potential visitors.
Business profiles allow you to provide detail of your business, such as address, phone number, email, website address, and opening hours. Additionally, you can ask your customers for reviews, and display your ratings. We've achieved 4.9/5 starts from our own excellent customer service and fantastic services.
Search results have evolved from being simple pages of ten items of text entries, to now being dynamic, and relevant. By having a business profile with Bing or Google, if your business is associated with a specific search result, your business listing may appear as part of those search results.
The "local pack" of a map and map pins, will list three business profiles, including name, your rating, contact details, and opening times plus links to your website and direction to your premises. These are all extremely important to raise your business profile in the search results.

Trade and Business Directories
There's not quite as much onus as there once was for firms to be in trade or business directories these days, especially seeing as Bing and Google's business profiles are the search engines' number one source of data. But it is still advisable, and useful to add your website to any other top directories. Afterall, you're trying to get your business noticed, so being in as many high-profile places as possible is the goal here.
Usually, they have a free sign-up option where you can enter your basic details, just as you would for your Bing Places or Google Business Profile. Use this free listing to claim a basic foothold and be listed in a place where your users may look for you.
Classic examples are Yell.com, what is now the online version of what used to be The Yellow Pages [Remember those gigantic yellow books that used to appear on your doorstep every year?! – Ed] and Thomson Local.
There are also specialist directories for tradespeople, such as TrustATrader and Checkatrade, where you can find plumbers, electricians, and floor screeding contractors. They are heavily advertised on UK local radio and national TV stations, so they're great places for an additional profile.
Alternatively, if you're a member of a trade association, make sure you're listed with them, whether in a personal or a business capacity. This can also earn you greater visibility and trust.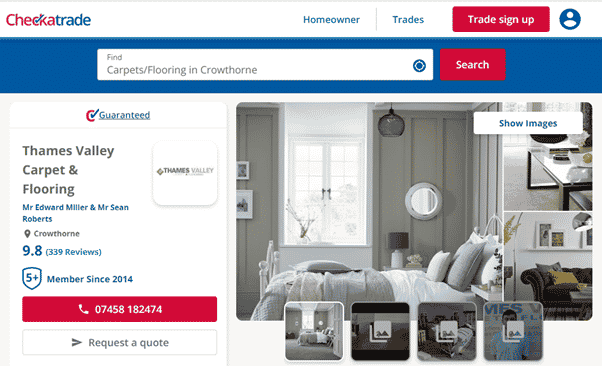 Pay Per Click
One of the first challenges of having a brand-new website, is that you're coming to the market late, and there are already well-established businesses, in some places dominating the search results. Their domain names may have been registered for over twenty years, they've built up links, and reputations, so they may be very well placed and rather incumbent. Search Engine Optimisation (SEO) can take weeks and months to build up quality rankings, it's a long process. One option on hand is Pay Per Click or PPC advertising.
Let's say you just launched your website last week and are seeing no organic results. You'll need to employ a reputable SEO agency on a digital retainer to improve in the Search Engine Results Pages (SERPs) but you can "leapfrog" the current organic listings with a paid ad.
If you're selling iPhones, for example, and want to appear for searches for "latest iPhone" then you'll probably notice that the top organic results are for Apple's own website (with three further sitelinks to take up a lot of screen real estate), then telecoms company O2, and retailer Argos.
However, by using PPC, Currys are the first in the list of shopping ads, followed by Argos, who have jumped above Apple themselves, with Sky, Carphone Warehouse and EE all being visible, where they were not in the hallowed "top ten" organic results.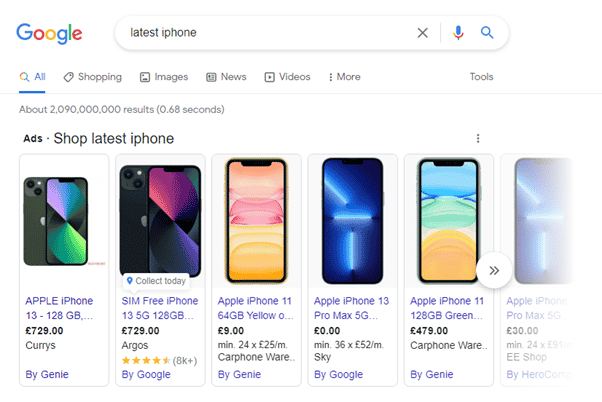 PPC gets your business noticed, and whilst you're running high-volume PPC ads in Google Ads and the Microsoft Advertising Network, you can strategically build your web presence using on-page and technical SEO techniques that will earn you better positions in the long term.
Social Media
Just as you set up your presence in a Google Business Profile and Bing Places, so you should "stake your claim" in the relevant social media channels. Not every business will use all their channels but secure your brand name in all the platforms, add your logo and business details, with a link to your website and that is a good start.
The next thing to realise is that running a quality social media presence is time consuming and can be a full-time job. You'll need to remember Pareto's Law and focus on the social media channels that earn you the most visibility and engagement.
Dip your toe in the water, follow your customers and potential customers, put out relevant messages in your brand's tone of voice, and engage with your audience. Be social! That's often the most overlooked aspect of social media!
Being active in social media channels like Twitter, Facebook, Instagram, LinkedIn and TikTok can generate brand awareness as well as building brand equity and generating clicks, leads, etc.
If your social needs laser-focused delivery, you can always move on to paid social media, the equivalent of PPC, but on those same channels.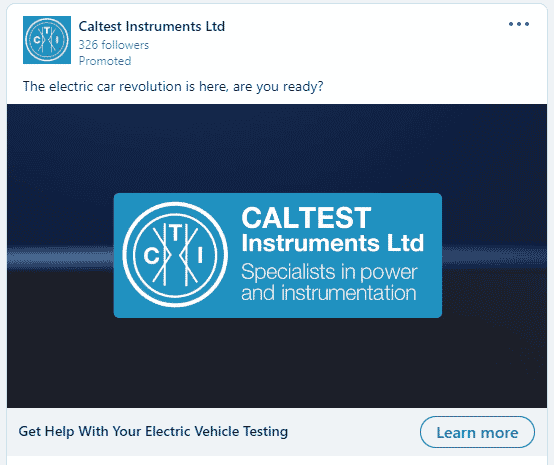 In Sum
Organic rankings will take time to establish, especially for new websites in competitive industries. To get your business noticed, you'll need to build your brand's profile in organic search, business profiles, social media and any trade or other directories.
Then you need to "make some noise" by being active, engaging with suppliers, customers, other members in your industry etc.
The best route to brand awareness and getting your business noticed is to "jump the queue" with PPC and paid social. You can then "rank in position 1" if you bid enough for the privilege.
It takes time, so make sure you have a firm strategy in place, and be prepared to make changes to your campaigns as you progress. After all, you can't change the wind, but you can adjust your sail.
---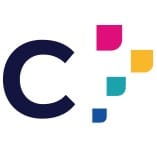 Clever Marketing has a track record of getting businesses noticed. Where it's hard to compete in organic, we dominate the PPC, where your users are, we can place ads right in front of them.
To discuss your next campaign, call our digital team on 01276 402 381, or you can WhatsApp us, or complete the easy contact form.