Digital Account Manager required for thriving digital marketing agency in Surrey
Clever Marketing has a fantastic opportunity for an experienced and passionate Digital Account Manager to join it's growing team.
The Digital Account Manager position focuses primarily on the successful and dynamic delivery of client projects which span across new website planning and development, website analysis and optimisation, SEO, content writing and creation, social media marketing, paid ad campaigns, email marketing and much more.
The ideal candidate will also have experience in building excellent professional relationships with clients, aligned with the ability to identify and optimise key opportunities for account growth.
In this role you will be working alongside colleagues to ensure the production schedule runs efficiently and client work is prioritised effectively. You will be working with both internal and external resources, delivering projects on time and within budget. Working skilfully within a team and bringing out the best in others is absolutely vital. You must also have the ability to independently manage tasks and deadlines.
To apply, please submit your details with covering letter and CV below. We look forward to hearing from you!
Act as the main point of contact between clients and our internal teams.
Create and build positive, long-term relationships with your clients.
Use your digital marketing expertise to identify and convert growth opportunities.
Lead the requirement for scoping, planning, executing and delivering digital strategies for clients.
Co-ordinate all marketing tasks and projects, dealing with any challenges that arise.
Manage the workload allocated to the delivery team to ensure deadlines are met.
Provide and maintain organised scope of work and project timelines.
Monitor the performance of campaigns; evaluating and identifying areas of improvement.
Review analytics and when required, prepare, collate and present campaign progress / results / KPIs.
Conduct regular customer research, market research, review insights and competitor data to inform of any digital strategy recommendations.
Keep up to date with latest digital marketing trends.
2+ years' experience as a Digital Account Manager.
Agency experience is vital.
Excellent knowledge of digital best practices and marketing strategies.
Knowledge of online monitoring and measurement platforms including, but not limited to, Google Analytics, Facebook Insights etc. 
Experience with marketing automation platforms such as SharpSpring, HubSpot etc.
Highly organised and process driven with excellent project and time-management skills.
Great attention to detail with a proactive attitude, always looking to improve ways of working.
Excellent verbal and written communication skills.
A positive and creative thinker and problem solver.
Ability to work in a fast-paced environment on multiple priorities simultaneously, coping well under pressure.
Proven record of developing client relationships and growth opportunities.
A desire to learn new skills.
Ability to work constructively and positively with clients at meetings, on calls, and via online communications. 
A team player.
Excellent time-management skills.
A team of diverse and "quirky" individuals, we bring together a collective of interests, hobbies and passions – making us who we are.
When we are not in the office, you will find us out on team nights out and socials.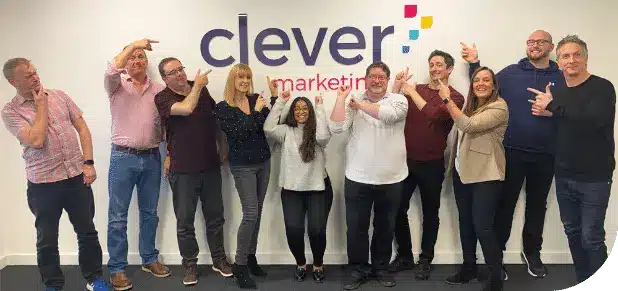 For nearly 25 years now Pantone has been giving the world a "color of the year" For 2024, that colour is… drumroll… Peach Fuzz!
Peach Fuzz 13-1023 that is.
You've got a brand-new website design and now you need traffic and leads to drive sales for your business. What do you do next? Search Engine Optimisation (SEO) is an effective way to raise your...
When was the last time you conducted a digital marketing review for your business? This year? Back in 2022? Never? If you've not looked at your digital marketing landscape for a while, then it's time...
Our in-house team of experts can help you address your marketing challenges and unlock your businesses full potential. Get in touch for a complimentary consultation today.