Responsive web design was a key trend in 2013 and is now firmly embedded as a best practice (for most situations), but although marketers have got to grips with building websites that work on mobile devices, many are lagging behind when it comes to their email campaigns.
Recent studies by email deliverability experts showed that 48% of all emails are opened on a mobile device, but in a survey of marketing professionals published in March less than half of them were creating emails that were optimised for viewing on mobiles. That means lower open and click-thru rates, reduced levels of engagement, negative brand associations and fewer conversions – the effectiveness of an email campaign could be literally halved by failure to address the requirements of the mobile audience.
Having 50% of your campaign fail before it starts is definitely something we all want to avoid. So, if you send marketing emails, what can you do to improve their usability and effectiveness for smartphone users?
1) Responsive Email Templates
 The first thing to do is make sure that mobile users can view your email without lots of fiddly zooming and scrolling.
Responsive email design works on the same principles as responsive web design, adapting your content to fit smartphone screens. By resizing or hiding different elements of your design you can create a smooth, single column layout that cuts out extraneous material and makes your email easy for mobile users to navigate and interact with. Pay particular attention to image sizes (both pixels and kilobytes) and be aware that the overall proportions of image-to-text will almost certainly have to change.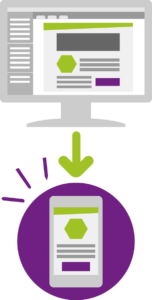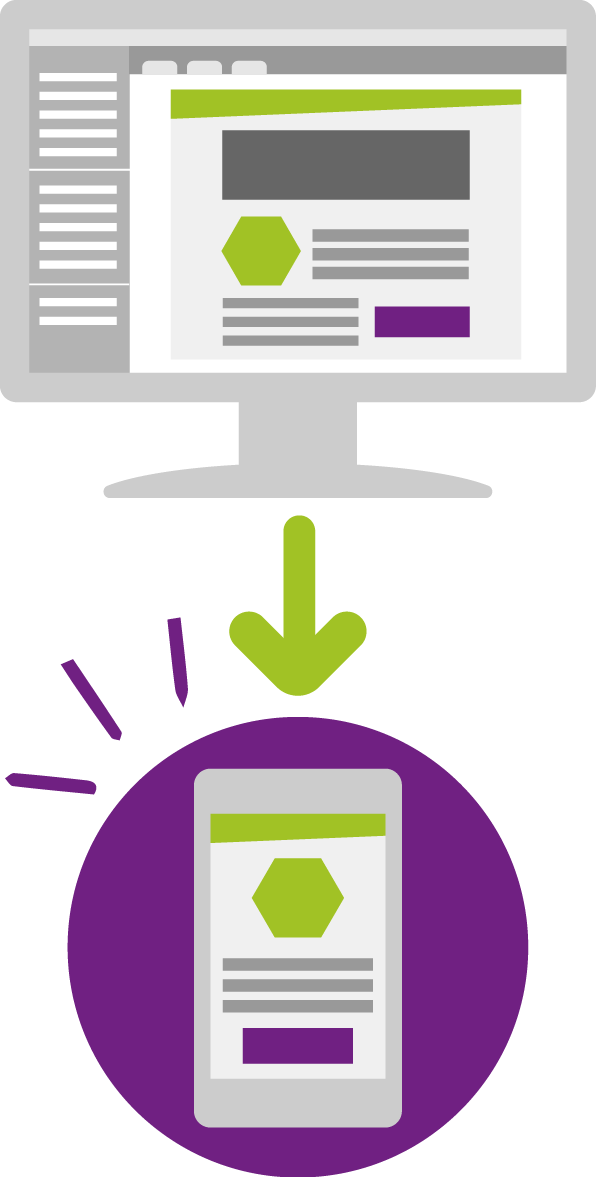 2) Standout Calls To Action (CTAs)
An important piece of best practice from the world of responsive e-commerce design that is equally important for emails. You want those click-throughs, so make sure that your buttons and links are big, bold and easy for people to tap on. The current iPhone (5, 5C and 5S) has a screen width of 320 pixels. Your buttons need to fill it and have plenty of white space at the top and bottom so that they stand out from the surrounding content.


3) Engaging Pre-headers
The pre-header is the first bit of rich text in your email. Several mobile email clients display this in the inbox, underneath the subject line. If your pre-header says something like "View in Browser | Unsubscribe" then you are missing a trick. Use it to state your core message or call to action, so your recipients are enticed to open.
4) Optimised Subject Lines
I once read a survey that said, statistically speaking, 39 characters is the optimal length for a subject line, but most current smartphone email clients show a maximum character count of slightly less than this. A quick straw poll in our office provides character counts from 36 up to 38 (and that includes the latest Apple and Samsung models). The takeaway from this is that, if you want to ensure your subject lines can be read on mobiles, keep them to 35 characters or less (and remember to A/B test).
5) Keep it Short
 One email, one message, one conversion action. Let this be your mantra. Don't complicate things with excessive verbiage or multiple calls to action. Mobile users definitely prefer it when you keep things simple, and this really isn't something that you should be reserving for mobile – if you can say something in one sentence, why make desktop users wade through a whole paragraph?
6) The Landing Page
 You know what's really silly? Sending someone a mobile optimised email message only to have them click through to a landing page that's not mobile friendly. Put yourself in the recipient's shoes. Their nicely crafted user experience has suddenly become a challenge that needs be overcome. You've made their life difficult; the chances are they are going to drop out of your campaign and/or think you are a bit of a buffoon. Don't do it.
BONUS TIP: Never underestimate the power of plain text emails. They often get to inboxes that HTML emails can't reach (due to firewalls and email filters) and when it comes to mobile their simplicity can be a useful strength – they will always display correctly and they are never going to over-face the recipient with too much graphical content for their small screen.
Of course, there are disadvantages to plain text. The uniform formatting means that CTAs can't be made to stand out and most email broadcast systems rely on the HTML element of emails to provide statistics on open rates. A useful 'half-way house' is to create HTML emails that look and behave like plain text except for the minimal amount of mark-up required to make links stand out. You get your email statistics and your recipients get a nice, straightforward email experience with clearly signposted CTAs. This is an approach that I have used to good effect in the past.
---

If you have any other essential tips for improving the mobile email experience then we're keen to hear from you, or if you need help improving the performance of your own email marketing then get in touch – we'd love to help.
You can also call Clever Marketing on 01276 402 381.